NEW! Ashton Bailey Cast Mandolin Tailpiece in Gold from Morgan Monroe
NEW! Ashton Bailey Cast Mandolin Tailpiece in Gold from Morgan Monroe Part
Description:
NEW! Ashton Bailey Cast Mandolin Tailpiece in Gold from Morgan Monroe Part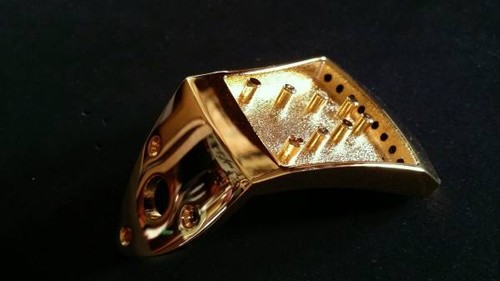 The AB-TP/G Gold cast tailpiece from Ashton Bailey adds tone and clarity to any mandolin(Octave Mandolins Excluded).
If you are upgrading from a traditional tailpiece you will see better response, improved sustain and tone with this simple upgrade.
Cast tailpieces are used by many high end mandolin luthiers and totally eliminate the cover plate rattle associated with stamped 2 piece tailpieces.
The Ashton Bailey tail piece retrofits to most mandolins without modification to the instrument. The design facilitates string changes and eliminates string crossover issues.
Christmas Blowout! If we can sell it cheaper, we will. All our current listings now have the
make offer feature. Get your orders in at the lowest prices, better than Black Friday or
Cyber Monday.
AK, HI, and PR shipping is different than the rest of the US. Contact us for your shipping
rate.
Most orders our being expedited for free, to ensure worry free holiday delivery.
Other fine products
Best Sellers
Description :A distinctive see-throug...
Mahalo Kahiko Plus Series Ukulele Tra...
Mahalo Kahiko Plus Series Ukulele, Tr...