NEW! KAT MULTIPAD 4-PAD PERCUSSION MODULE Built In Sounds + Velocity-S
NEW! KAT MULTIPAD 4-PAD PERCUSSION MODULE Built In Sounds + Velocity-Sensitive
Description:
NEW! KAT MULTIPAD 4-PAD PERCUSSION MODULE Built In Sounds + Velocity-Sensitive
The KAT ktmp1 is the quick and easy solution to expand any setup. Playable with both hands or sticks, this single module adds electronic drum, dance, and percussion sounds immediately to your fingertips. This compact and affordable module features 50 high-quality, fully-adjustable, multi-purpose sounds. Sounds can be tuned, panned and assigned to one of the four highly-responsive pads. Additionally, you can fine-tune reverb, sensitivity and level control to shape every sound to perfectly suit your needs.

The KAT ktmp1 is a great addition to any drum set, percussion rig, DJ set-up and is also the perfect tool for laying down studio tracks.
Features:
Compact and affordable electronic drum and percussion instrument
Four velocity-sensitive pads
50 High quality drum and percussion sounds
Two additional inputs for for hi-hat controller pedal and bass drum trigger
USB/MIDI Connectivity
¼" Main outputs and 1/8" Stereo
Headphone jack
This could be construed as the cutting edge Boss Dr Pad but on steroids.
Studio quality sounds and the live work horse.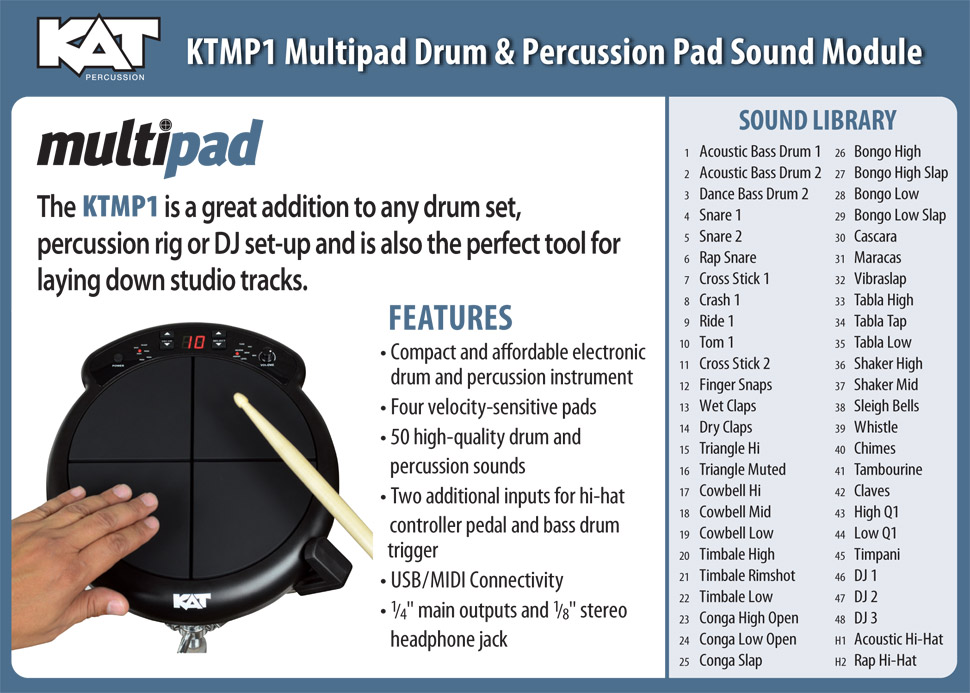 Best Sellers
Cort G100OPW Double Cutaway Electri...
 Jay Turser JJ-45FCET Series Acoustic...
Jay Turser JJ-45FCET Series Acoustic/...