NEW! Seiko Multi-Function Digital Metronome with Tap Function & Earpho
NEW! Seiko Multi-Function Digital Metronome with Tap Function & Earphone Jack
Description:
NEW! Seiko Multi-Function Digital Metronome with Tap Function & Earphone Jack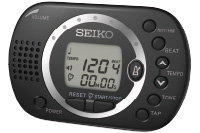 Dual Speaker and Highly Visible Tempo Indicator with 7 LED's
Choose from 2 different speakers according to your environment or preference
(Loud sound: Dynamic speaker/Soft sound: Piezoelectric speaker)
Highly visible tempo indicator with 7 LEDs
Make your own tempo with the TAP function
Stopwatch function can be used simultaneously
AK, HI, and PR shipping is different than the rest of the US. Contact us for your shipping
rate.
Best Sellers
Description :A distinctive see-throug...
Mahalo Kahiko Plus Series Ukulele Tra...
Mahalo Kahiko Plus Series Ukulele, Tr...