New! Wuhan 457 Brilliant Finish & Tone Cymbal Set 16" Crash 20" Ride 14" HiHats
Description:
NEW Wuhan 457 WU457 Cymbal Set Box Pack - Brilliant Finish Crash Ride & HiHats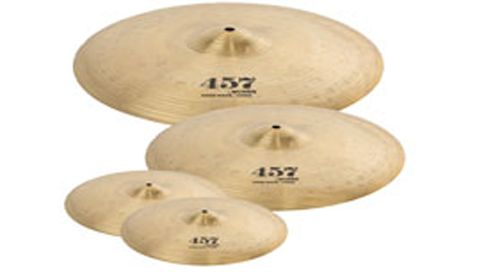 This cymbal package includes a set of 14" matched hi-hats, a 16" crash, and a 20" ride.

In the past, cymbals designated as "entry level" have been made of low-cost alloy manufactured in sheets, and they were cut from these sheets and shaped on machine presses.The resulting cymbals were, in fact, low in price. But they were also little more than serviceable targets for practice purposes. They simply had nothing to offer in ...the way of sound.
That's all changed with the introduction of the new 457 series by Wuhan. These entry-level cymbals offer great looks, low price...and exceptional sound quality.

The new 457 cymbals were created by drummer/designers in the U.S., and are hand-made to their exacting specifications by skilled craftsmen in China. They feature an alloy of 92% copper and 8% tin, which provides dramatically superior sound and durability compared to other entry-level cymbals made of cheaper alloys. In addition, where other "sheet cymbals" are machine-stamped into shape, 457 cymbals are hand-hammered to give them a great sound for the entry-level player. A brilliant finish completes the professional image of this new line.
AK, HI, and PR shipping is different than the rest of the US. Contact us for your shipping
rate.
Best Sellers
Cort G100OPW Double Cutaway Electri...
 Jay Turser JJ-45FCET Series Acoustic...
Jay Turser JJ-45FCET Series Acoustic/...